Census of Marine Zooplankton Steering Group
<!link href="cmarz.css" rel="stylesheet" type="text/css">

The CMarZ Steering Group reflects the project's geographic, taxonomic, and disciplinary diversity; guides scientific and technical development; and ensures close coordination with other CoML field projects.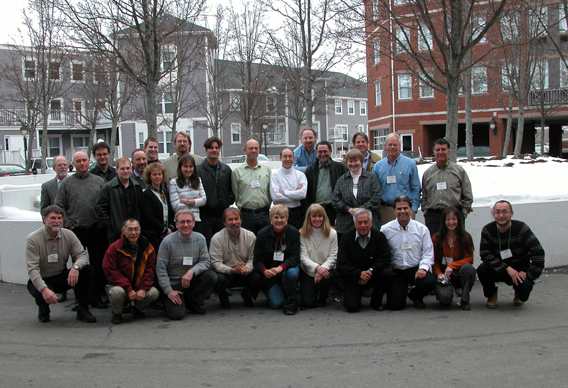 Attendees at the initial meeting of the CMarZ, Portsmouth, New Hampshire, March 2004
Back row: Colomban de Vargas, James Hanken, Christopher Manning, Erik Thuesen, Russell Hopcroft, Mark Ohman.
Second row: David Mountain, Webjørn Melle, Brian Ortman, Nancy Copley, Annette Govindarajin, Steven Haddock, Francesc Pagès, Anthony Richardson, Steven J. Hay, Sigrid Schiel, Larry Madin, Lewis Incze.
Front row: Peter Wiebe, Shuhei Nishida, Ron D'Or, Demetrio Boltovskoy, Annelies Pierrot-Bults, Ann Bucklin, Victor Gallardo, Ahmet Kideys, Ebru Unal, Ryuji Machida.


Martin Angel,
National Oceanography Centre
Southampton, UK
Tel. 023 80 596364
Email: Martin.V.Angel-at-noc.soton.ac.uk
Expertise: taxonomy, systematics and evolution of the ostracoda

Demetrio Boltovskoy, Associate Professor
Facultad de Ciencias Exactas y Naturales
Universidad de Buenos Aires
C1428EHA Buenos Aires Argentina
Tel. +54 (11) 4576-3300, Ext. 248
Fax +54 (11) 4576-3384
Email demetrio-at-ege.fcen.uba.ar
Languages: Spanish, English
Area of Expertise: South Atlantic, protists

Janet M. Bradford-Grieve, Consultant
NIWA Wellington
301 Evans Bay Parade, Private Bag 14901
Kilbirnie, Wellington
New Zealand
Tel. +64 4 3860362
Fax +64 4 386 2153
Email j.grieve-at-niwa.co.nz
Languages: English
Area of Expertise: New Zealand coastal waters, calanoid copepods



Ann Bucklin
Professor and Head, Department of Marine Sciences
Director, Marine Sciences and Technology Center
University of Connecticut - Avery Point
1080 Shennecossett Road
Groton, CT 06340 USA
Tel. 860-405-9208
Fax 860-405-9153
Email: ann.bucklin-at-uconn.edu
Languages: English
Area of Expertise: molecular systematics of crustacean zooplankton
website

Rubén Escribano, Associate Professor
Universidad de Concepcion
Barrio Universitario
PO BOX 160-C
Concepcion, CHILE
Email rescribano-at-copas.cl
Languages: Spanish, English
Area of Expertise: Marine Zooplankton Ecology, copepods
website

Erica Goetze, Assistant Professor
Department of Oceanography
University of Hawaii at Manoa
1000 Pope Road, MSB 606
Honolulu, HI 96822 USA
Tel. 808-956-7156
Email egoetze-at-hawaii.edu
Area of Expertise: calanoid copepods, phylogeography, molecular and morphological systematics
website

Steven Haddock, Research Scientist
Monterey Bay Aquarium Research Institute
7700 Sandholdt Road
Moss Landing, CA 95039 USA
Tel. 831-775-1793
Fax 831-775-1620
Email haddock-at-mbari.org
Languages: English
Area of Expertise: gelatinous zooplankton


Steve Hay, Research Scientist
Fisheries Research Services (FRS) Marine Laboratory
PO Box 101, Victoria Road
Aberdeen, AB11 9DB, Scotland
Tel. +44 1224 295448
Fax +44 1224 295511
Email S.Hay-at-MARLAB.AC.UK
Languages: English
Area of Expertise: North Sea, copepods



Russell R. Hopcroft, Assistant Professor
Institute of Marine Science, University of Alaska Fairbanks
Fairbanks, AK 99775-7220 USA
Tel. 907-474-7842
Fax 907-474-7204
Email hopcroft-at-ims.uaf.edu
Languages: English
Area of Expertise: Arctic ecosystems




Ahmet Kideys, Associate Professor
Institute of Marine Sciences
P.O. Box 28
33731, Erdemli, Mersin, Turkey
Tel. +90 (324) 5212406
Fax +90 (324) 521232
Email: kideys-at-gmail.com
Languages: Turkish, English
Area of Expertise: Black and Caspian Seas, ctenophores
website


Dhugal Lindsay, Research Scientist
Japan Agency for Marine-Earth Science and Technology (JAMSTEC)
Japan
Tel. 81-468-67-9563
Email: dhugal-at-jamstec.go.jp
Languages: English, Japanese
Expertise: pelagic cnidarians, ctenophores, hyperiid amphipods

Larry Madin, Senior Scientist
Department of Biology, Woods Hole Oceanographic Institution
Woods Hole, MA 02543 USA
Tel. 508-289-2739
Fax. 508-457-2169
Email lmadin-at-whoi.edu
Languages: English
Area of Expertise: gelatinous zooplankton, tunicates

Webjørn Melle, Research Scientist
Institute of Marine Research
P.O. Box 1870 Nordnes
5817 Bergen, Norway
Tel. +47 55238477
Fax +47 55238584
Email webjorn.melle-at-imr.no
Languages: Norwegian, English
Area of Expertise: Norwegian Sea, copepods



Vijayalakshmi R. Nair, Consultant
Marine Biology and Marine Pollution HB/50
Vijaya South Bridge Avenue
Panampilly Nagar Kochi 682036
Kerala, India
Tel/Fax 00-91-484-2316999
Email: vijayalakshmi40-at-hotmail.com
Languages: English
Area of Expertise: Indian Ocean, chaetognaths


Shuhei Nishida, Professor
Atmosphere and Ocean Research Institute
University of Tokyo
5-1-5 Kashiwanoha,
Kashiwa 277-8564, Japan
Tel: +81-4-7136-6360
Email nishida-at-ori.u-tokyo.ac.jp
Languages: Japanese, English, Chinese
Area of Expertise: Southeast Asia, copepod taxonomy

Annelies C. Pierrot-Bults, Senior Researcher
Institute for Biodiversity and Ecosystem Dynamics
Zoological Museum, University of Amsterdam
Mauritskade 61, 1092 AD Amsterdam, The Netherlands
Tel. +31 (20) 525 7194
Fax +31 (20) 525 5402
Email A.C.Pierrot-Bults-at-uva.nl 
Languages: Dutch, English
Area of Expertise: chaetognaths

Philip C. Reid, Sr. Scientist
Sir Alister Hardy Foundation for Ocean Sciences (SAHFOS)
The Laboratory, Citadel Hill,
Plymouth, PL1 2PB UNITED KINGDOM
Tel: +44 (0)1752 633281
Fax: +44 (0)1752 600015
Email: pcre-at-sahfos.ac.uk






Sigrid Schiel, Professor
Marine Animal Ecology
Alfred-Wegener-Institut für Polar- und Meeresforschung
27515 Bremerhaven, Germany
Tel. +49-(0) 471-4831-1303
Fax +49-(0) 471-4831-1918
Email sschiel-at-awi-bremerhaven.de
Languages: German, English
Area of Expertise: Antarctic ecosystems, copepods



Song Sun, Director
Institute of Oceanology
Chinese Academy of Sciences
7 Nanhai Road, Qingdao 266071, CHINA
Tel: +86 532 2898598
Fax: +86 532 2868008, 2898612
Email: sunsong-at-ms.qdio.ac.cn
Languages: Chinese, English



Erik V. Thuesen, Associate Professor
Laboratory One, The Evergreen State College
2700 Evergreen Parkway Northwest
Olympia, Washington 98505-0002
Tel. 360-867-6584
Fax 360-867-5430
Email thuesene-at-evergreen.edu
Languages: English
Area of Expertise: gelatinous zooplankton

Colomban de Vargas, Researcher 1 - CNRS
Roscoff Marine Station
Place Georges Teissier
BP74
29682 Roscoff Cedex
FRANCE
Tel. +33 2 98 29 23 34
Email: vargas-at-sb-roscoff.fr
Languages: English, French
Area of Expertise: planktonic foraminifera

Hans M. Verheye, Principal Specialist Scientist
Head, Biological Oceanography
Marine & Coastal Management (Research & Development)
Private Bag X2, Rogge Bay 8012
Research Aquarium, Beach Road, Sea Point
Cape Town, South Africa
Tel.: +27(0)21 430 7015
Cell: +27(0)82 5703906
Fax: +27(0)21 434 2144/2899
E-mail: hverheye-at-deat.gov.za
Peter H. Wiebe, Senior Scientist
Department of Biology, Woods Hole Oceanographic Institution
Woods Hole, MA 02543 USA
Tel. 508-289-2313
Fax 508-457-2169
Email pwiebe-at-whoi.edu
Languages: English
Area of Expertise: bio-acoustics, euphausiids
website